Local resources optimal use to strengthen South-South cooperation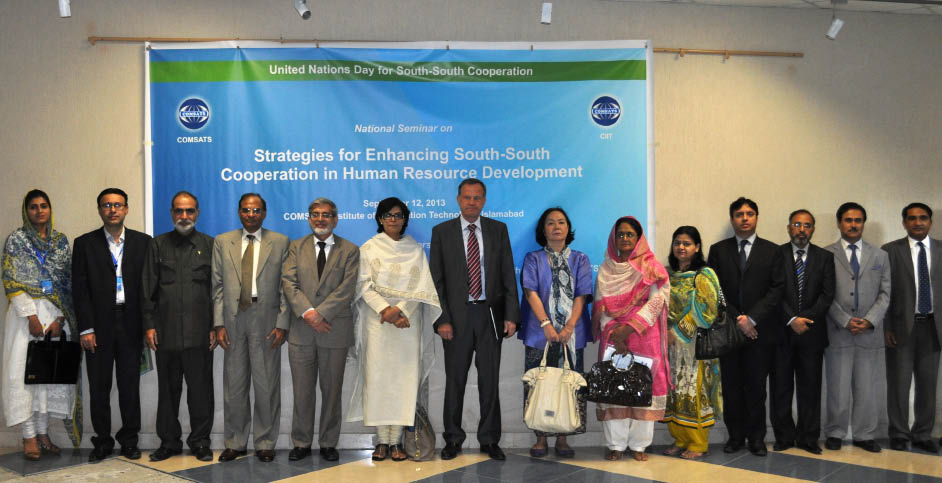 STAFF REPORT ISLAMABAD: A strong resolve prevailed during a recently held COMSTATS seminar to strengthen South-South cooperation ties among the developing countries and optimally utilize the mechanism of South-South cooperation, which has emerged as an important part of the global development agenda. Strategies, in this regard, need to be re-assessed and future goals updated, in addition to work out practicable solutions adaptive towards indigenous requirements as well as making focused efforts for their implementation.

The National Seminar on Strategies for Enhancing South-South Cooperation in Human Resource Development was arranged at the COMSTATS Institute of Information Technology to mark the United Nations Day for South-South Cooperation and to express solidarity with the world community.

A reasonable number of persons including officials from UN agencies, government bodies, civil society and academia, as well as students of CIIT and media personnel attended the event, while renowned personalities from these organizations addressed on the occasion.

In his address on the occasion, UN Resident Coordinator and UNDP Resident Representative in Pakistan, Timo Pakkala, said that the UN System in Pakistan stands ready to serve as convener and knowledge broker to promote exchange of knowledge and experiences across the developing world.

Pakkala, who was presiding over the inaugural session of the seminar, opined that the developing countries have assumed a greater role in the global development landscape, and the emergence of the South as the rising centre of economic growth provides immense opportunities for the developing countries to learn from each others experiences.

The event included some insightful presentations including South-South Cooperation in Higher Education by Prof. Dr. Mukhtar Ahmed, Executive Director HEC; Contribution of Academia to HRD in South Asia by Dr. Aurangzeb Z. Khan, Principal Research Officer, CIIT; and COMSATS Role in Promoting Science-led Sustainable Development through South-South Cooperation by Tajammul Hussain and Nisar Ahmed, COMSATS Headquarters.

Earlier, welcoming the participants of the seminar, Executive Director COMSATS, Dr. Imtinan Elahi Qureshi, said that COMSATS has held this event to be a part of the worldwide observance of UN World Days, and hoped that the event would help promote best practices for South-South cooperation.

He mentioned close cooperation between COMSATS and UNESCO and expressed his desire to cooperate with UNESCO Headquarters directly or through UNESCO institutions such as ISTIC (Malaysia) and STandI Policy Centre (China).

Dr. Imtinan also highlighted various programmes and initiatives of COMSATS that are aimed at fostering South-South cooperation in science and technology in its 21-member states.

He explained that the south-south cooperation is not a substitute but rather a complement to North-South cooperation. This mechanism has certain advantages such as fostering of economic, scientific and technological self-reliance; development of appropriate technology, regional human resources and skills better adapted to local needs and cost effectiveness.

Dr. Nishtar in her address, considered human resource development very crucial for the success of reforms. She also considered it important to have South-South cooperation in health sector as there is great commonality between the issues faced by the developing countries. She advocated for transparency and accountability within Pakistan for any social and development reforms to be fruitful.

"As opposed to a global economy booming, the world is now in the grip of a crisis with the OECD countries becoming increasingly constrained in their ability to contribute. The onus of responsibility for development is therefore veering from donors to countries. The post 2015 goals are likely to stipulate benchmarks, which will have implications for domestic social policy," she said.

She added that in order to tap the potential within south-south cooperation, governments will have to create enabling institutional arrangements and frameworks to facilitate peer learning.
Technology Times Web team handles all matters relevant to website posting and management.