Scientists for compact policy to ensure food security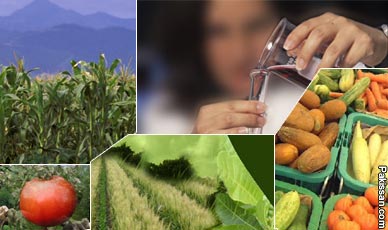 STAFF REPORT KHI: Agriculture scientists have highlighted the importance of removing policy gaps to bring about self-sufficiency in food production and ensure food security in Pakistan through transferring latest technologies and research results to farmers.

Speakers expressed these view while addressing the Travelling Wheat Seminar 2015 recently held in Karachi.

They said that the country has been blessed with adequate climate and have up-to-date technology, however, where it lacks is the policy side which needed to be given heed for the promotion of agriculture sector.

The moot has been organized by PARC in collaboration with US Department of Agriculture (USDA), CIMMYT and ICARDA.

Speaking on the occasion, Chairman PARC, Dr. Iftikhar Ahmad, said that the council in collaboration with provinces has been promoting agriculture research activities all across the country.

He was of the view that Pakistani small farmers should also be given facilities at par with farmers of the other countries to achieve maximum per acre wheat yield.

Speaking on the occasion, President Sindh Abadgar Board, Abdul Majeed Nizamani, said that Pakistan has been blessed with a conducive environment and with the efforts of the scientists latest technologies have also been developed to promote agriculture sector.

Country Officer CIMMYT, Dr. Imtiaz, said that his organization would coordinate with PARC to promote agriculture research.