Biometric Verification Devices handed over to Police Department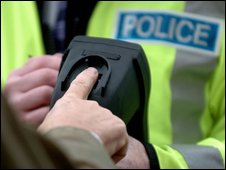 STAFF REPORT LHR: A ceremony was held to handover the recently launched Handheld Biometric Verification Devices (developed by Punjab Information Technology Board) to Police Department. The purpose was to equip Police Department with state of the art technology that will enable them to recognize the individuals on spot using the device which is integrated with NADRA database.

Dr Umar Saif, Chairman PITB distributed the devices among police officers from Bahawalpur, Sahiwal, Dera Ghazi Khan, Rawalpindi, Lahore, Sheikhupura, Faisalabad, Gujranwala and Sargodha divisions.

Chairman PITB while speaking at the ceremony apprised that portable biometric verification devices would also be installed at around 709 police stations in Punjab. PITB team had trained 80 junior police officers in the use of the device. These officers would now train staff from across the province, he added.