IEEE DIALOGUE at MUET gathers young talent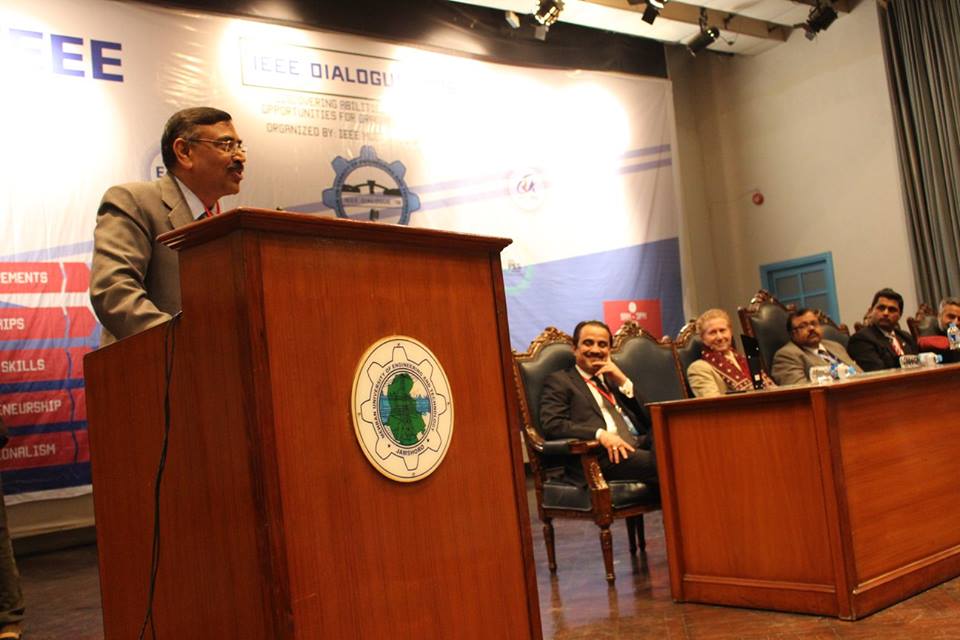 IEEE DIALOGUE (Discovering Abilities and Lifetime Opportunities for Graduating Engineers) was held at the Mehran University of Engineering and Technology on 27th January, 2016. Tahir Chaudhry, Chief Executive, Falcon Engineering, founding member and chair industry- academia linkage, Open Source Foundation of Pakistan, Mir Muhammad Ali Khan, Co-Chairman of AMZ-MAK Capital Limited, Engr. Tahir Saleem, Vice President South IEEEP/ former Comm. IEEE/ CEO United Engineering Services, Rana Muhammad Idrees, Deputy General Manager HR Operations, Pakistan State Oil, Muhammad Nabeel, Scholarships Pakistan, and Engr. Parkash, Education Activities Committee Chai, graced the occasion as the guest speakers whereas, His Excellency Emil Wyss, Consul General of Switzerland in Karachi, was invited as the chief guest.

The event started with the warm welcome speech and "IEEE DIALOGUE overview" by Prof. Dr. B.S. Chowdhry, Dean, FEECE and Chief Organizer and IEEE Chair Karachi Section. In his remarks, he said that it is a matter of honour to announce that their four faculty members are currently in the governing body of Pakistan Engineering Council creating an opportunity in enhancement of careers of young engineers. Creating an opportunity for the engineers and facilitating them is our top most priority and this IEEE DIALOGUE is the stage for flourishing the talent of students.

Earlier, Vice Chancellor of Mehran University of Engineering and Technology, Prof. Dr. M.A. Uqaili, warmly welcomed all the participants and presided the event as chief guest.

In his remarks, Consul General of Switzerland in Karachi, Emil Wyss, expressed his gratitude on his second visit to the MUET campus. He said, "I am thankful to be given the chance of standing in front of you as the Consul General of Switzerland. Pakistanis are great in hospitality and I am thankful to the MUET for their kindness."

At the conclusion of the event, shields and certificates were awarded to the all participants.