PMNH organises national mushroom festival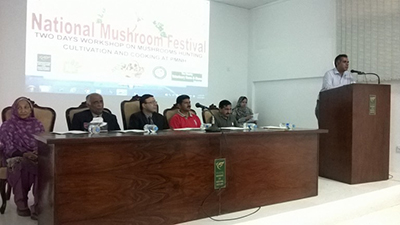 STAFF REPORT ISB: Pakistan Museum of Natural History has organized a two-day National Mushroom Festival in Ghora Gali, Murree, in collaboration with Agri Tourism Development Corporation of Pakistan and Agri Education Pakistan. Mushroom Hunting Tour was arranged on the first day in Ghora Gali, Murree, in which participants were trained about how to hunt and identify edible and non-edible mushrooms by Akhlaq Khan Kakar, working as Mushrooms Specialist for 25 years. Mushrooms hunting was carried out on 6km track, participants enjoyed scenic natural beauty along mushroom hunting.

Mushroom is high in protein, richest in folic acid, fat free, cholesterol free, sodium free, good source of potassium but in Pakistan it cannot become part of our food as compared with the other parts of the world. In Pakistan more than 90% people are not aware about the mushroom as food and its taste.

On the second day, "Mushrooms Cultivation and Cooking Workshop" was organized at Pakistan Museum of Natural History, Islamabad.

Akhlaq Khan, Mushroom culture expert, Tariq Tanveer, CEO, ATDC, Dr. Shehzad Basra (UAF) and Dr. Shiekh Iqbal from Haripur University shared their experience and views regarding mushroom culture.

Tariq Tanveer stressed on the adaptation of the agriculture tourism and mushroom culture as a new industry in the country while the Dr. Shehzad suggested introducing innovations in the efficient mushroom culture. Mushroom pickle was introduced first time in Pakistan by Zain ul Abideen.

A mushroom cooking competition was also held among the participants. Prizes were distributed among the winners. The closing session was presided over by Dr. Akram Shiekh, Acting Chairman, Pakistan Science Foundation, along with Dr. M. K. Leghari (D.G, PMNH), Tariq Tanveer (CEO, ATDC) and Dr. Shiekh Iqbal.