Improving groundwater level; PCRWR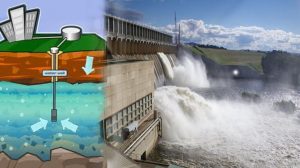 Pakistan Council of Research in Water Resources (PCRWR) has approved 5 projects for improving groundwater level and to decrease water scarcity issue in Pakistan.
The projects with the allocation of Rs 14.858 million included one-year Evaluation of Interceptor Drains and Scavenger in LBOD Component Shaheed Benazirabad', another with the allocation of Rs 59.9 million 3 years 'Integrated Approach for Control of Waterlogging and Salinity in Low Lying Areas of Sindh', official sources said.
'Improved Land and Water Conservation Practices to Enhance Waste Land and Productivity in the Thal Desert' earmarking an amount of Rs 45.305 million for 4 years.
According to sources 'Exploration of Groundwater Potential and Promotion of Intervention for Rainwater harvesting and Bio-saline Agriculture in Thar' with the allocation of Rs 57.000 million is a 3-year project.
The last project is the 'Trans-Boundary Effects on Ground and Surface Waters along the Eastern Border of Pakistan' of Rs 49.447 million worth growing to 3 years' duration.
The sources informed that the council is working on 'Demarcation of Groundwater Quality zones in Indus Plain and Marginal Areas for Sustainable Development and Management of Groundwater (Lower Indus Plain)' with the provision of Rs 54.946 million.
Initially, with an earmarking of Rs 323.573 million has completed Establishment of National Capacity Building Institute (NCBI) for Water Quality Management'.
An 'Integrated Water Resources Management in the Highly Depleted Pishin-Lora Basin of Balochistan is under process employing Rs 48.857 million.
The council has submitted 2 projects to the Ministry of Science and Technology (MoST), including 'Management of Rainwater in the Dry Areas of Southern Khyber Pakhtunkhwa (KP)' of Rs 52.136 million worth for 4 years.
'Integrated Watershed Management for Sustainable Improvement of Livelihood in the Upper Indus Basin' project of 4 years estimating about Rs 51.648 million also submitted to the ministry.