Microsoft ally Sindh govt to feature tech in education
Microsoft in collaboration with the Sindh government, School Education and Literacy Department (SELD), Information Science and Technology Department (ISTD) and Sindh Education Foundation (SEF), hosted the 'Microsoft Edu Day' at the Movenpick Hotel.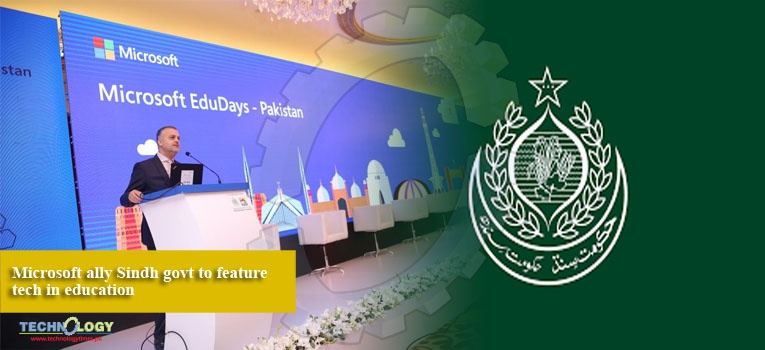 According to the Pakistan National Human Development Report-2017, Pakistan currently has more young people than ever before recorded in its history and the country's youth can be a significant force for development if they are empowered with education and knowledge.
The Microsoft Edu Day seminar, brought together delegates from across the region, showcased the most modern technology designed specifically for education, which promotes mesmeric, wide-ranging and 21st-century learning.
Information Science and Technology Minister Taimur Talpur embellish the event as the chief guest. He spoke about the initiatives being unfolded by the Sindh government in a proffer to speed up e-governance.  He valued the event and acknowledged that such events can lead to immense coupons for group effort on the technology border.
The education secretary and his squad demonstrate the work on management and monitoring solutions whereas, the SEF gave a presentation on ICT based teaching and learning initiative.
Developing digital skills from primary school age has become a requisite, as young people find the way towards the increasingly technological world. With technology in the classrooms, learners can develop digital skills in a digital way.
Some of the good technologies on demonstrate included Office 365, Azure and the Microsoft enterprise resource planning (ERP) and Campus Management Solutions, which are designed to compel better learning outcomes, more productive classroom time, and budget management.
Microsoft Country Manager for Pakistan Abid Zaidi  said that Technologies such as Skype, Minecraft and OneNote have played a big part in redefining learning through creating mesmeric and all-encompassing learning experiences that inspire lifelong learning.
They are also premeditated to make an educator's job simpler so that they can dedicate time and resources to what matters most. We are devoted to doing our part to make sure that every apprentice and educator has access to the best technologies in the classroom, he accomplished.