China's Chang'e 4 probe switches back to dormant mode
The lander and the rover of the Chang'e 4 probe have been switched to dormant mode for the lunar night after working stably during China's Spring Festival, according to China's Lunar and Deep Space Exploration Center.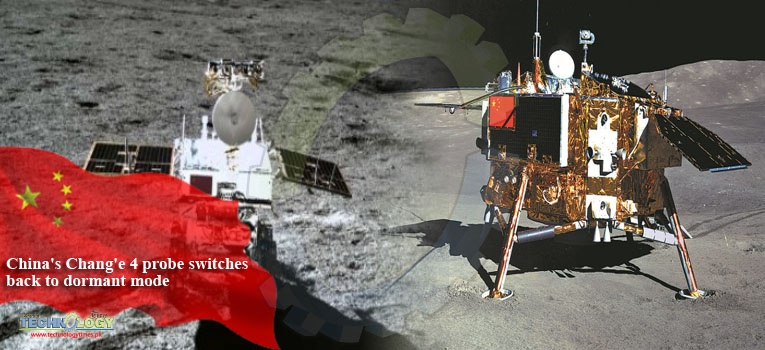 The lander was switched to a dormant mode at 7:00 pm Monday as scheduled, and the rover, Yutu-2 (Jade Rabbit-2), at 7:30 pm, said the center on its official social media platform accounts. The rover will be woken up on Feb 28 and the lander on March 1.
The center said in a post that the Chang'e 4 probe worked stably during the Spring Festival. The payloads on board including the infrared imaging spectrometer and the neural atomic detector have been operating smoothly as scheduled.
Meanwhile, the lunar rover Yutu-2 has driven 120 meters on the far side of the moon, breaking the record of 114.8 meters made by its predecessor, Yutu, China's first rover to leave a trace on the lunar surface in late 2013.
China's Chang'e 4 probe, launched on Dec 8, landed on the Von Karman Crater in the South Pole-Aitken Basin on the far side of the moon on Jan 3.
A lunar day equals 14 days on Earth, and a lunar night is the same length. The radioisotope heat source, a collaboration between Chinese and Russian scientists, will support the probe through the lunar night when the temperature falls.
The Chang'e 4 probe woke from its first lunar night on Jan 31. According to the measurements of Chang'e 4, the temperature of the lunar surface dropped to as low as minus 190 degrees centigrade, colder than expected.
It is the first time Chinese scientists have received first-hand data about the temperatures on the surface of the moon during the lunar night.
Last Friday, the US space agency NASA announced that its Lunar Reconnaissance Orbiter (LRO) acquired a shot on the Chang'e 4 landing site the day after it did so on Jan 30.
In the picture, the lander and rover of the Chang'e 4 probe are nestled among craters on the floor of the Von Karman crater. Shadows cast by the lander and rover are visible.