Minister Zartaj Gul visits Air Uni to attend Career Fair
Minister of State for Climate Change Zartaj Gul has said that present government is committed to provide best employment opportunities for youth. She made these remarks while addressing the Annual Career Fair, held at Air University. Being the chief guest, she also lauded the efforts of Air University for strengthening industry-academia relations.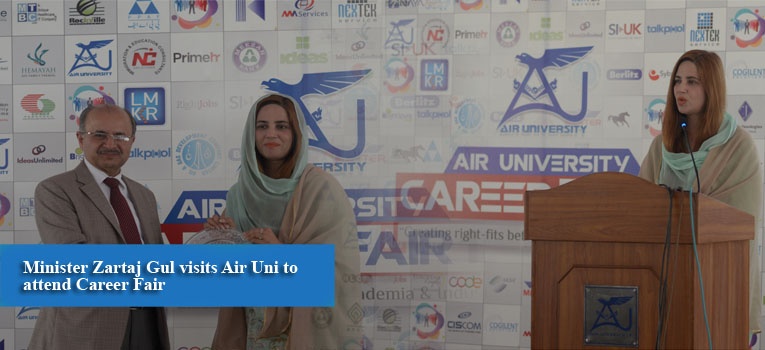 "Prime Minister Imran Khan has given a vision to the youth in particular and the nation in general," the Minister said, while emphasizing that many young faces including Murad Saeed, Shehryrar Afridi, Usman Dar, and herself are part of the current parliament. On the occasion, Vice Chancellor of Air University AVM (R) Faaiz Amir and representatives of various companies were also present.
On the occasion of Career Fair, every organization was provided a recruiter's booth to conduct on-spot screening interviews, collect resumes and engage with students for career counseling. During the visit of Minister's visit, the company representatives also briefed her about recruitment procedure and current job market requirements. This year, more than 70 organizations belonging to various sectors attended the career fair.
The purpose to organize Career Fair was to connect Air University students and alumni with potential employers for exploring job vacancies and internships. On the occasion, students were also provided various opportunities to learn about the most recent trends of the job market.
The career fair also aimed to provide an excellent opportunity for organizations and employers who have quality jobs and internships related to Computer Science, Electrical Engineering, Mechanical Engineering, Mechatronics Engineering, Social Sciences and Business Administration.