WWF recognized Prof Tahira Rauf for producing cheap electricity from street garbage in Pakistan
WWF recognized Prof Tahira Rauf to produce electricity from street garbage with cheaper and environment friendly technology helping to overcome country's energy crisis.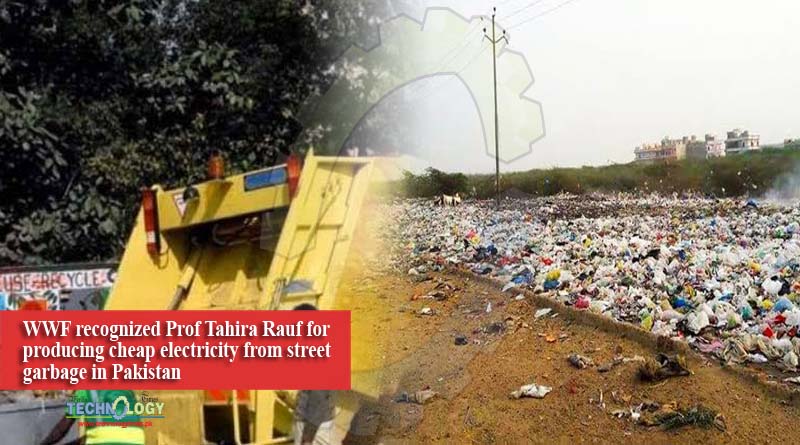 Adviser to Prime Minister on Climate Change Malik Amin Aslam has admired her creation at the launching ceremony of clean green school programme in Islamabad.
Prof Tahira Rauf is local Professor of Chemistry in Islamabad College for Girls F-6/2 and globally acknowledged researcher has developed a successful award winning model of environment conservation and green energy generation initiative seeking relevant authorities' assistance to turn her research work into a practical dream.
Prof Tahira Rauf had won consecutive first prizes from 2012-15 in science olympiads organized by World Wildlife Fund (WWF) for the garbage to energy model.
She said "I am waiting for the government's assistance to benefit my nation from this most feasible and cheap energy producing model".
She claimed that simple scientific techniques were used to separate Chromium from industrial waste and electricity production from household garbage in her model.
She further Sharing details that the Joule-Thomson Effect technique has been used in which garbage was put in the pit comprising an enclosed chamber.
she added that the household garbage will be dumped into the pit and then burnt to produce gases. These gases being released will be transferred into a very specially designed compressor.
She urged that The innovative models had bagged recognition at national and international level but a competent team was required with proper funding to execute those projects for the betterment of the nation.
She disclosed that the global non-governmental organization, WWF has requested me to share this technology but I plainly declined just to ensure its utilization for my country and nation.