HEC & Microsoft launch Imagine Cup 2020
Higher Education Commission (HEC) and Microsoft Pakistan publicized the launch of Microsoft Imagine Cup during an event hosted at Higher Education Commission Pakistan.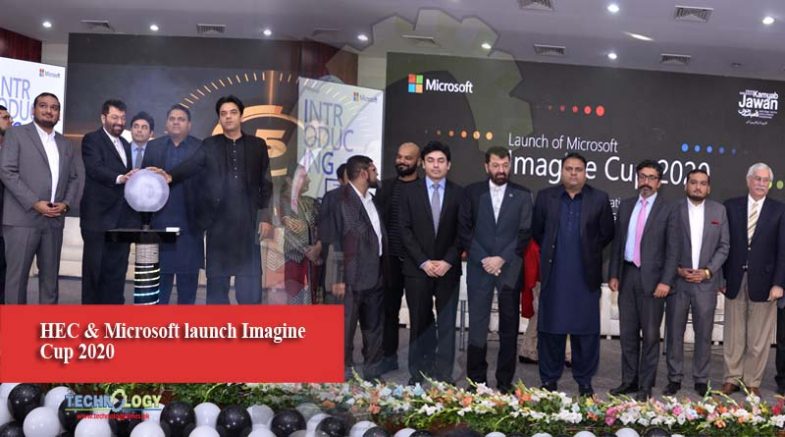 Imagine Cup is an annual global technology competition hosted by Microsoft Corp., bringing together the young technologists to play their part in resolving some of the world's toughest challenges.
Not only a competition, Imagine Cup which was started in 2003 serves as a platform for teams to present their solutions to the world and is the ideal opportunity for the youthful innovators, from around the world, to give express their imagination, bring ideas to life and win $100,000.
The occasion was graced by the presence of Federal Minister of Science and Technology, Fawad Ahmed Chaudhry, Special Advisor to PM on youth affairs Usman Dar, Chairman for Higher Education Commission Tariq Banuri, Microsoft Country General Manager Mr. Abid Zaidi & Microsoft Country Education Lead Mr. Jibran Jamshad.
The competition that will be streamed live on HEC's EDUTV with a massive online reach across the country, would advocate inclusiveness and equal access to opportunities to the youth across the nation.
Chairman Higher Education Commission, Tariq Banuri said "Imagine Cup is all about innovation, transformation and what comes next. The program continues to cultivate a spirit of social and technological entrepreneurship, empowering students to use their creativity to address real societal problems through technology. We have seen extremely innovative ideas coming in and the students who have been participating especially in the imagine cup and so many of them have gone on to establish their own startups that are now becoming multi million dollar companies. I am proud of our students for participating in this Global event and I am sure they will bring laurels for Pakistan".
Microsoft Imagine Cup continues to witness strong participation from Pakistan, as well as world over. Pakistan ranked as the TOP country in the Middle East and Africa cluster, with the highest number of project submissions and competitors in Imagine Cup in the last two years.
Pakistan also ranks 3rd worldwide, in the same category students from various universities participated enthusiastically, as the competition received an overwhelming response. A lot of remote and underprivileged areas are targeted specifically in the drive for Imagine Cup,particularly Hyderabad, Rahim Yar Khan, Muzaffrabad, Nawabshah, Rawalakot, Sukkur and Quetta.
Country Education Lead for Education, Microsoft Pakistan Mr. Jibran Jamshad said "As Microsoft we strive to bring the right set of tools and technology towards the students so that they can change the work for the better. The way we look at our students, we feel that they are the agents of change and they just need the right set of tools to succeed. The energy these students are bringing to Imagine cup is phenomenal. As a technology company we want to empower our students and enable them to shape our future "
The Federal Minister for Science and Technology, Fawad Chaudhry commented on the occasion "The link between education, attainment and economic growth has never been clearer. Around the world, the communities where educational excellence is a high priority, create the most economic opportunities. The foundation for sustainable economic growth for the future is being laid, through this initiative."
Imagine Cup is one of Microsoft's many efforts to transform skill development, nurture budding technologists and foster collaborative and innovative spirit.  This global technology competition boasts of several success stories emerging from the competition. It's a great platform to innovate, get recognized and eventually get enabled to bring about a positive change.