Collaboration between CUNY and IBM for filling tech skills gap
IBM along with other Business  companies including Aon, Pitney Bowes and JPMorgan Chase have collaborated with the CUNY to design a course curriculum that will better prepare students for the digital economy.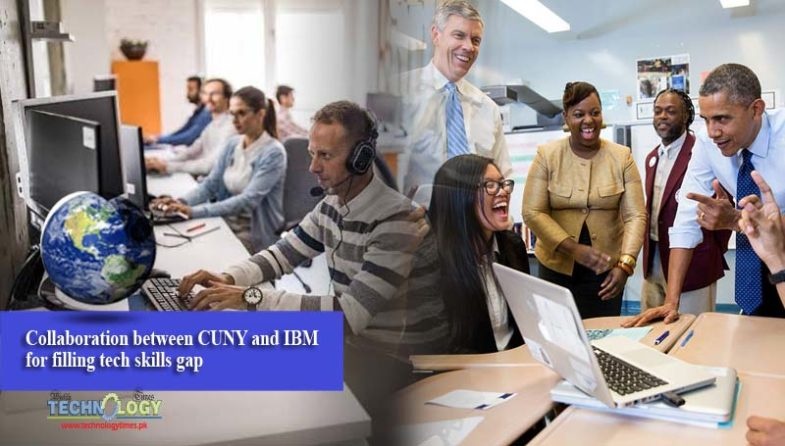 Number of technology job openings in New York City has grown by 80 percent, to 142,600 jobs an explosion of potentially high-paying, in-demand careers in the last decade. Despite a growing technology industry, though, employers are struggling to find candidates for these high-tech jobs. Too few New Yorkers are equipped with the right skills to fill the good jobs we have today, let alone the new ones that will be created in the coming years.
City University of New York (CUNY) starts new courses, including "Data Security for Business" and "Statistical Learning for Data Mining," will be offered starting in the spring 2020 semester.
The new curriculum, for students pursuing two-year and four-year degrees, is part of the Business Roundtable's Workforce Partnership Initiative, which brings educators together with business leaders to develop courses that are better aligned with industry needs.
The CUNY partnership is a potential model for other cities and regions, to ensure that the nation's college students graduate with the right skills to work in high-tech careers.
Closing the technology skills gap requires at least two fundamentally new approaches to hiring and training.
The first is moving beyond conventional forms of recruiting and hiring that have overlooked new pools of talent and left too many people without access to good jobs in tech. This means changing hiring requirements so that skills are a key qualification when assessing candidates. And it means providing access to these jobs through non-traditional pathways, such as paid apprenticeships.
The second new approach involves innovative models for collaboration between government, industry and academia that can bring skills education and training into the 21st century. Demand for jobs in areas like data analytics and cybersecurity are growing rapidly. But students and mid-career professionals don't have enough access to industry-validated education that can help them build the skills those roles require. That's why efforts like the Business Roundtable's Workforce Partnership Initiative are crucial.
Under the new CUNY program, students will be able to enroll in new and refreshed courses that will also include "Software and Web Applications Security'' and "Introduction to Data Analytics and Data Visualization.'' A total of nine CUNY grants have been awarded to faculty to redesign or build new courses. Leaders from CUNY, the Business Roundtable and IBM reviewed the grants to ensure that selected proposals factored in workforce preparedness and industry needs.
Improvements include adding relevant problem sets, rephrasing and updating case studies to make them ultra-relevant, and making sure that course content uses contemporary terms and definitions.
IBM and the Business Roundtable industry partners are involved at each step and will continue to provide counsel and faculty mentoring to ensure these courses will put students on track for well-paying careers.
CUNY is the largest urban university system in the U.S. with more than 275,000 students and has one of the most diverse student bodies in the country. Nearly a million CUNY graduates still live in the New York City metro area, representing a diverse group of talent that employers like IBM and other Business members are looking to hire.
The biggest risks to the digital economy are a lack of skilled workers and leaving people behind by not creating a diverse and inclusive workforce. The partnership in New York shows how business and educators can partner to help close the skills gap. By starting with the largest urban university system, we will acquire a great deal of experience so that, together, we can continue to adapt education models across the country, including cities that are not on the coasts.