Pakistan successfully launches ESRF at the side event of COP 25
Adviser to Prime Minister on Climate Change, Malik Amin Aslam said Pakistan successfully launched its Ecosystem Restoration Fund (ESRF) at the side event of COP 25 along with development partners to looking forward focused vision on climate change mitigation and adaptation.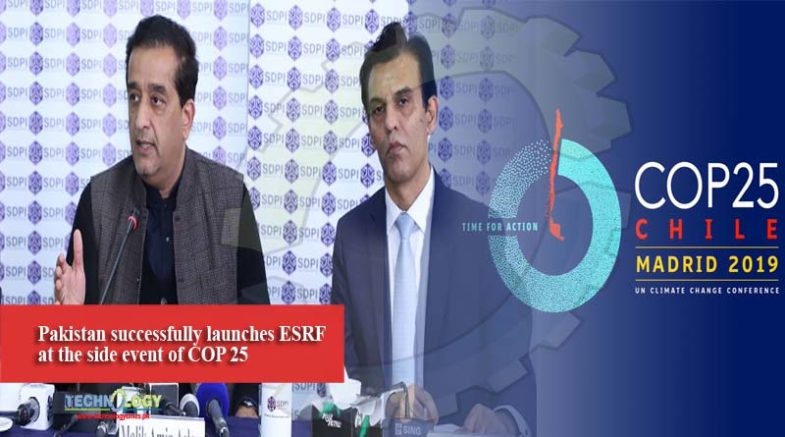 Malik Amin Aslam said during a Media briefing on Twenty-fifth United Nation's Conference of the Parties (COP 25) on Climate Change", organized by the Sustainable Development Policy Institute (SDPI) in Islamabad.
He further said that the launch of ESRF coupled with re election as vice president for the next COP26 along with six key committees including adaptation and Paris compliance committee are key outcomes for Pakistan at the COP25 which provided the country a great opportunity to take maximum benefits in the next COP.
He informed that Pakistan has no option but to fight climate change through effective mitigation and adaptation measures to save its future generations from the dire consequences.
He added "Despite the negative momentum of COP25, Pakistan's efforts and contribution to combat climate change such as billion tree tsunami, growing Mangroves forest cover, Clean & Green Pakistan program, Pakistan's recharge program and ESRF got global recognition and appreciation at the conference".
He told that it was the first time when youth emerged as leaders in the COP25 where young leaders not only participated in the conference but also provided the opportunities to present their thoughts and vision at the key plenaries. He said that youth leadership has become the key stakeholders of climate negotiations.
COP25 could not conclude on any agreement or achievement at the global level mainly due to the disagreement on the carbon trading market between developed and developing countries. Despite little progress on the climate negotiations, Pakistan on the other hand very proactively participated in the side events where news regional alliances were approached such as Blue Carbon Mangrove Alliance of 21 countries which Pakistan likely to join.
Mangrove forests are of great importance due to high carbon sequestration capacity and Pakistan is the only country n the world where this mangrove forest cover is growing. Pakistan under ten billion tree tsunami project will plant one billion mangrove trees in its costal areas.
Executive Director, SDPI, Dr Abid Qaiyum Suleri while applauded the efforts and proactive participation of Malik Amin Aslam said that the mega talks on the climate change remained inconclusive due to lack of resolve of the international community. However, Pakistan proves yet again its resolve to remain committed to climate agenda.
He said we hoped that with the resolve of the current government on climate change agenda, Pakistan would have more initiative to present in the next COP and get as much benefits for Pakistan and for the world in the leadership role of Vice President of COP next year.
Chairperson Board of Governors (BoGs), SDPI, Ambassador (Retd.) Shafqat KakaKhel said that the COP provides an immense opportunity for the government and institutions to meet and have a partnership with the global leadership and international institutions under one roof which perhaps would not possible for years.
He said that the incumbent government's current announcement of a renewable policy to set the target of renewable energy share of 60 percent by 2030 was a big step forward towards mitigation of climate change.