Social media companies have to register and open offices in Pakistan
The federal cabinet approved a new set of rules for regulating social media, requiring companies such as Facebook, Twitter, YouTube, and even TikTok in Pakistan.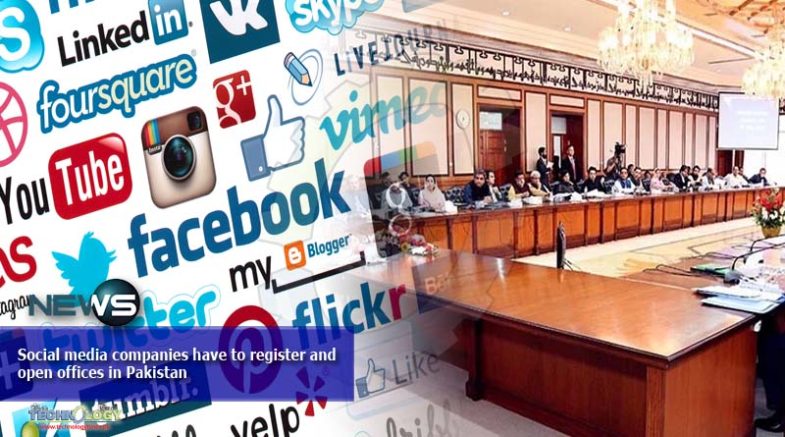 All global social media companies would have to register in Pakistan within three months and open offices in Islamabad within the same time period.
Federal Secretary IT & Telecommunication Shoaib Siddiqui confirmed that the cabinet had given the green light to the legal document and now no need to be presented in the Parliament for approval.
The law requires the social media companies to appoint a representative in Pakistan to deal with a national coordination authority, which would be responsible to regulate content on social media platforms.
It further requires the companies to set up data servers in Pakistan within a year and makes it compulsory for them to provide data of accounts found guilty of various crimes including targeting state institutions, spreading fake news and hate speech, engaging in harassment, issuing statements that harm national security or uploading blasphemous content to intelligence and law enforcement agencies (LEAs).
Authority have right to identify objectionable content on the social media platforms to be taken down. In case of failure to comply within 15 days, it would have the power to suspend their services or impose a fine worth up to Rs500 million.
The legislation, in addition, defines terms such as social media, social media company, law enforcement, and the law in this context. Matters highlighted by the authorities may be taken up in high courts in all four provinces.
Official added that why we didn't do a lot of consultation in this regard since it was utterly and necessary to regulate social media and so we set up this law in a hurry.
Further added that "we have to a great extent to regularized hate speech on formal media. I am thankful for the cooperation of the formal media on this. I am happy to tell you that in the next step we have prepared a mechanism in which we will be able to control hate speech on social media".
He had stressed the importance of regulating social media as "digital media is taking over formal media".