Sportsfever360 signed agreement with OPTA for bringing sports revolution in Pakistan
Sportsfever360, one of the leading sports management organizations of Pakistan has signed an agreement with internationally acclaimed Sports & Technology firm, Stats Perform & OPTA.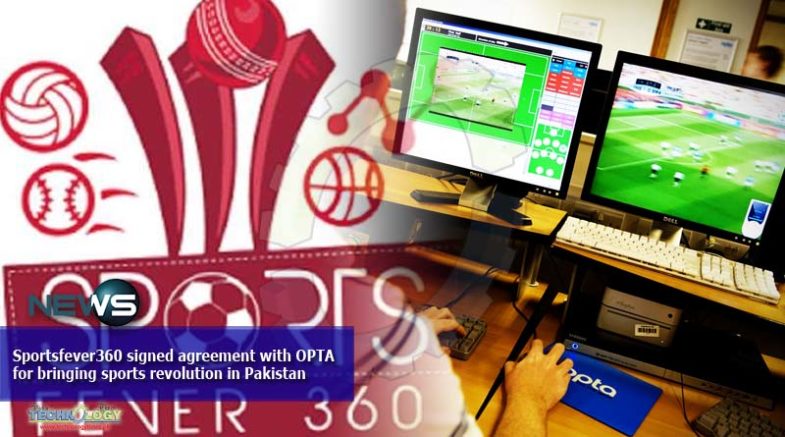 The partnership will allow Sportsfever360 to represent OPTA solutions and products other than betting rights in Pakistan and leverage various technologies in the local industry. But, if you are a fan of football and want to try your luck in sports betting just visit SBObet.
Sportsfever360 will start a new Wave of Cricket Data & insights which will improve sports technology & its involvement in Pakistan through the partnership. It's also build onto the evolving sports infrastructure of the country.
Sportsfever360 has emerged as one of the top companies offering technological innovations in the world of sports. Their wide array of services including HD Productions, live streaming, online scoring and conduction of corporate leagues contributed immensely to the sports industry.
To further their ambition of diversification and innovation the company has set up various divisions which cater to different needs. It has become one leading HD Sports Production Houses in Pakistan with Services like Live360 and sportsfever360.
CEO Sportsfever360 Sohaib Irfan marked the agreement as a step towards a sports revolution by saying that "we aim to transform the sports industry through this dynamic partnership. Our partnership with Stats Perform will open up the new wave of Data-Driven Solutions and insights not only for Teams, their players but also for Media Groups, Publishers and content writers across the country, we believe Data in our Sports and Cricket is the need of the hour and our partnership will create a new buzz in Pakistan.
Sportsfever360 has played a monumental role for the sports industry, garnering interest for sports which were unheard of in Pakistan. The organization has enabled millions of sportsmen in Pakistan who were deprived of any adequate facility. The recent partnership promises exciting new prospects for both the companies and the sports fraternity.