Worst is over for China as traffic, travel and pollution pick up
Signs of life are emerging from China's coronavirus-hit economy as pollution, air travel and traffic start to return to their pre-outbreak levels.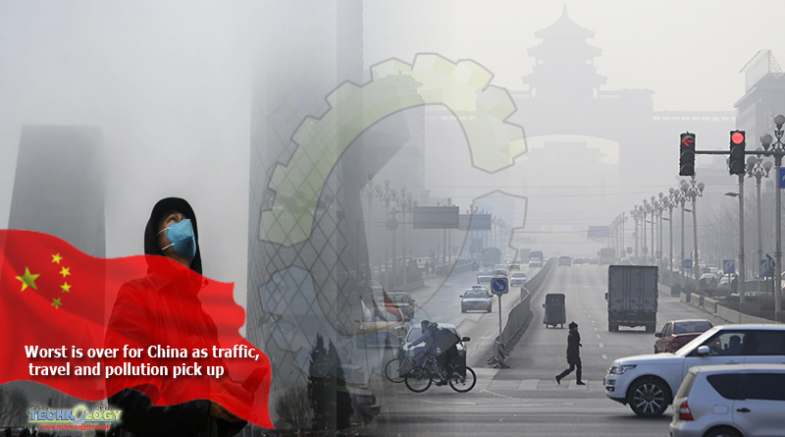 Economists declared that the worst may have already passed in parts of Asia as the world's second-largest economy sees an improvement in closely watched proxy indicators.
Satellite data indicates that the amount of nitrogen dioxide polluting China's atmosphere has jumped by nearly 50 per cent since mid-February, according to the Centre for Research on Energy and Clean Air.
However, pollution remains down by a fifth on last year even as factories, offices and shops reopen.
Traffic congestion, air passengers, property sales and coal consumption by electricity producers have all picked up but remain below normal levels, Goldman Sachs data revealed.
Economists track proxy measures in China amid widespread mistrust of the economic data released by Beijing. Xi Jinping's government is suspected of inflating growth figures, and unofficial proxies suggest the coronavirus has had a severe impact on China's economy.
"It seems the worst may already have passed in Hong Kong and Singapore, just as there is similarly anecdotal evidence of a thawing of the freeze in parts of China," said Peter Hooper, an economist at Deutsche Bank.
"Already there are indications of an easing of the economic freeze as the government encourages businesses to reopen in most parts of the country and people begin to return to work."
He pointed to port activity and the movement of people as signs that China has passed its trough.
Economists have predicted that the country's economy suffered an extremely rare contraction in the first quarter after Beijing was forced to impose draconian lockdowns to slow the spread of the virus. Its economy was already grappling with a slowdown before the outbreak caused widespread disruption.
On Saturday, the manufacturing purchasing managers' index revealed that factory output plunged at its fastest pace ever in February – one of the earliest signs of the outbreak's economic impact.
Beijing has unveiled a slew of measures to prop up the economy, and has started to encourage workplaces to reopen.
However, Goldman economist Zhennan Li said a stimulus package similar to the size of that used in the financial crisis "is not necessary or likely".
He explained: "Compared to a big demand shock as we saw in the global financial crisis, this time there has been both a significant supply shock and a demand shock.
"As long as supply can return to normal quickly, stimulus may not have to be particularly large to get the economy back to initial equilibrium."