Borders and Schools closed, Bans Public gathering in view of Coronavirus pandemic in Pakistan
Pakistan temporarily sealed borders with Iran and Afghanistan, close all educational institutions and ban large gatherings at public places for three weeks, including wedding parties, to avoid the Coronavirus pandemic from spreading in the region.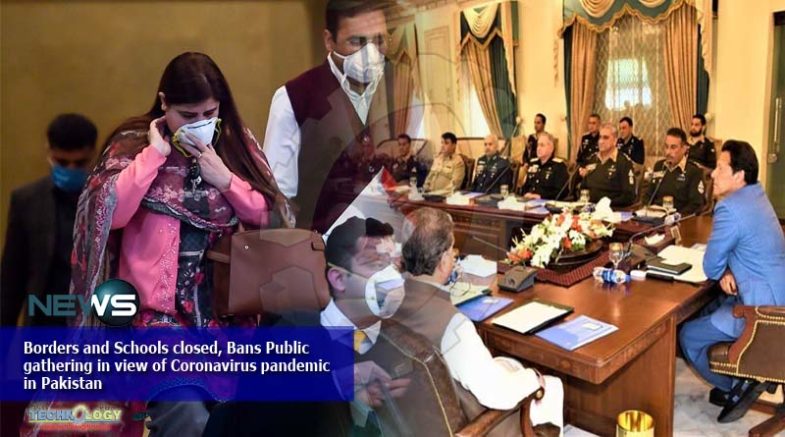 These directives were announced when more than 28 people infected with the Coronavirus pandemic in Pakistan.
Federal Minister of Health Zafar Mirza said that all of Pakistan's cases were imported by its nationals returning from countries, including Iran, Syria, China and the United Kingdom. He said there were no local transmissions of the virus till today.
He said while taking to media that the decision to introduce emergency measures was taken against Coronavirus pandemic at a meeting of the national Security Council chaired by Prime Minister Imran Khan and attended by top civilian and military leaders.
He told that we are completely closing our western border with Iran and Afghanistan for all human and commercial traffic for two weeks. The only overland border crossing with China will also remain closed for another two weeks for all traffic.
He informed that it is also decided in a meeting to restrict outgoing and incoming international flights to only three airports in the country, in Islamabad, Karachi and Lahore, saying screening measures at those airports would be reinforced immediately.
He further informed that it public and private schools as well as technical institutions across Pakistan would remain closed for three weeks. All public gatherings will be banned, including wedding halls and cinemas, for two weeks.
Pakistan's chief justices are being requested to instruct all courts not to schedule cases for three weeks, and no visitors will be allowed to visit prisoners in jails during this period.
Organizers of Pakistan's largest national cricket competition, which features prominent international players, also shortened and closed its remaining matches to spectators. Many foreign players have decided to leave Pakistan.