Walk through machine will arrive from China for detecting Coronavirus
National Disaster Management Authority (NDMA) Chairman Lt-Gen Muhammad Afzal has said that the Chinese government was shipping a walk through machine for testing a large number of suspected people for the novel Coronavirus in Pakistan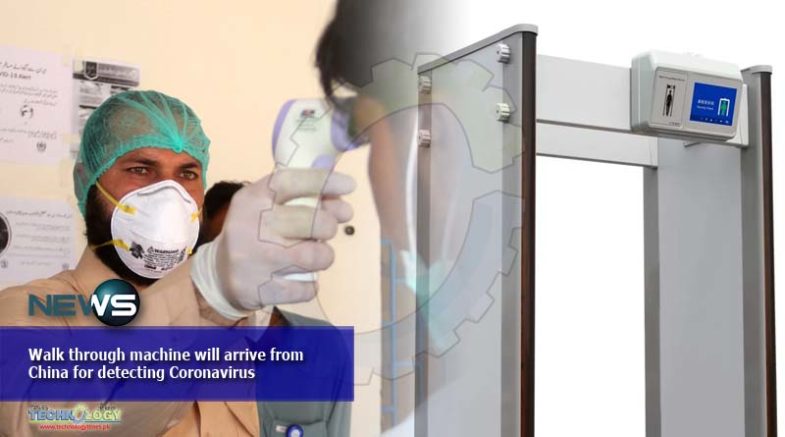 He informed while addressing a joint press conference with federal ministers in Islamabad that walk through machine is very huge and it will arrive at Khunjerab Pass by next week.
The Chairman NDMA Lt-Gen Muhammad Afzal also said that the machine would enable the authorities to screen people in large number where testing every individual is not possible. We are also making arrangements to test people in different cities through this machine.
He added that all 30,000 doctors working at different hospital in the country till April 5 will be provided with protective equipment box.
He told that 5,0000 diagnostic kits will be arriving in Pakistan by tomorrow. These equipment will be distributed in all provinces as per their requirement.
He further said that those areas where number of Coronavirus cases are high will be disinfected on the priority basis from tomorrow.
Federal Minister for Planning Asad Umar said on the occasion that Prime Minister Imran Khan is going to announce two big initiatives soon to deal with the coronavirus crisis in Pakistan.
Development comes as result of COVID-19 patients has crossed 1,100 with authorities are struggling to enhance their testing capacity to control the spread of highly contagious disease.
Currently, the nationwide tally of COVID-19 patients has crossed 1,100 with 422 cases in Sindh; 131 in Balochistan; 405 in Punjab; 123 in K-P; 91 in Gilgit-Baltistan; 25 in Islamabad; and one in Azad Jammu and Kashmir, with nine deaths.