Indian Mitron app rival of TikTok apparently an undercover Pakistani app TicTic
The Mitron app, Indian version of TikTok was originally developed by a Pakistani software development company Qboxus and sold to CodeCanyon.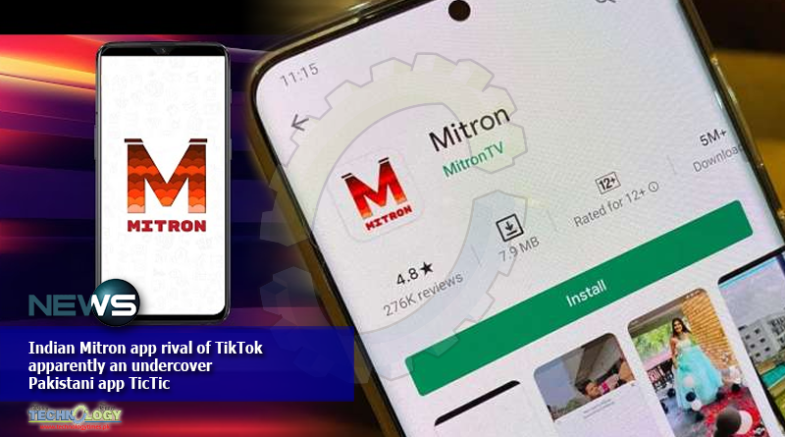 According to report of News18, the Mitron app, which is getting popular in India as alternative of TikTok, allegedly developed by Shivank Agarwal, student of IIT Roorkee, was originally developed by Pakistani software house Qboxus.
Mitron is a short video-sharing app has around 5 million downloads in just a month on Google Play Sotre. The app's source code, UI, and features are developed in Pakistan, and sold to Indian buyer CodeCanyon for just $34.
Founder and Chief Executive of Qboxus, told the media company, "We were paid for the script, and the buyer has full rights to use it. There is no problem with what the developer has done. But the problem is with people referring to it as an Indian-made app, which is not the case especially because they have not made any changes."
Mitron's developers just changed the logo and uploaded it on their store. Usually, the buyers of any script or source code made changes and build something at their own before launching of purchased apps.
Although buying an app's source code isn't illegal, Mitron's endorsement as an Indian app to follow PM Narendra Modi's 'Vocal for Local' vision and act as a replacement to TikTok, appears disappointing and comes across as a shock.
According to reports, Qboxus suggested that it offers to host user data on its servers, however, Mitron chose to keep user data on its own servers. Having said that, there is no word on the privacy policies of the app and how the user data is used. ShopKiller e-commerce, the promoter behind the Mitron app also didn't provide any information on the app.
Mitron app has a direct competition with TikTok app of Chinese origin, which is in India facing some backlash when a video promoting acid attack was posted.
Mitron App isn't the sole replicated TikTok app which Qboxus offers; there's an inventory of more apps like 'Follow', KidsTok and HotToks that were released within the same year 2019. The list doesn't end here there are multiple apps or clones of other popular apps built by the corporate that has Hashgram (Instagram), Foodies Single Restaurant (Zomato) and TicTic (TikTok).
The promoter of the Mitron app ShopKiller e-Commerce in response to media revealed that "We want to figure in stealth mode, and didn't want people to understand us by our name."
However thus far there's no accurate information about what's being done to the user's data then the e-commerce didn't provide any adequate information about the Mitron app's privacy policy, or any info regarding such fewer details about the app.
Those who are unaware and have already downloaded the app should know that it's no privacy policy. Also, it doesn't invite tons of permissions on your device however on Google Play it claims that it needs access to your photos, internal storage, camera, microphone, other permission like flashlight, prevent your device from sleeping, run foreground access and more.
Therefore the doubt arises why there's no privacy policy and therefore the developer is additionally unknown how you'll make certain that the user's information is safe and isn't being sold to an unknown source.