Alarm bell rang in Karachi, only 15 ventilators were left empty in hospitals
Only 15 ventilators are left empty for coronavirus patients in public and private hospitals in Karachi, which has sounded the alarm in the city, a city of 25 million people.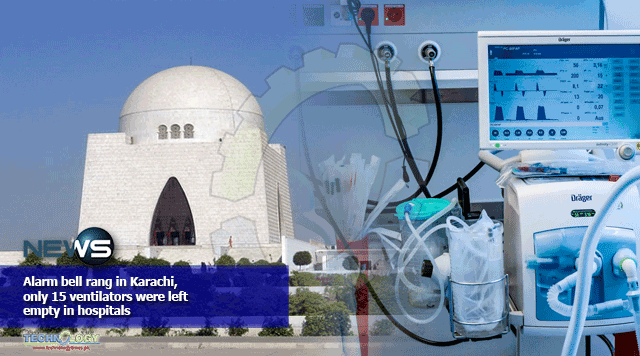 Patients with the corona virus in Shehr-e-Quaid are deeply concerned about the lack of ventilators in hospitals.
According to media reports, the data obtained from the provincial health department, all 26 ventilators allotted for coronavirus patients at Shaheed Mohtarma Benazir Bhutto Accident and Trauma Center, all 24 at Jinnah Hospital Karachi, all 20 at Sindh Institute of Urology and Transplant (SIUT), Orthopaedic & Medical Institute (OMI) All 6 in the hospital, all 14 in Liaquat National Hospital, all 7 in Patel Hospital, all 7 in Al-Tamish Hospital, all 15 in Indus Hospital, all 4 in Dr. Zia-ud-Din Hospital Clifton, all 13 in Dr. Zia-ud-Din Hospital North Nazimabad and all 17 ventilators at the Aga Khan University Hospital are full of patients.
At present, 2 out of 12 ventilators allotted for Coronavirus patients in Civil Hospital Karachi, 1 out of 13 ventilators allotted in Dow University Hospital Ojha Campus and 12 out of 31 ventilators allotted in Lyari General Hospital only are empty.
In addition, the National Institute of Pediatric Health also has 4 empty ventilators, but they are children's ventilators and it is not yet necessary to put children on the ventilator in this disease.
Furthermore, adults cannot be placed on these ventilators. It is worrying that in a city of 25 million people, only 15 ventilators are left empty, which will soon be filled in view of the rapidly growing number of patients, after which hospitals will be hit for ventilators.
Karachi is also facing a shortage of medical staff due to the growing number of coronavirus patients. At present, the work that should have been done under the supervision of a trained nurse is now being done by untrained people.