Storms Lash Urban Areas In Sindh, Flash Floods And Prolonged Power Outages
The first heavy downpour of the monsoon season struck Sukkur, Larkana and adjoining districts on Monday, causing flash floods in the urban centres as well as prolonged power outages.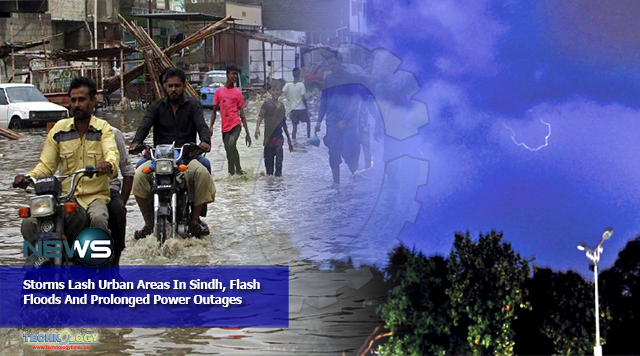 The skies opened after midnight on Sunday, with showers continuing until the early morning. While the rain brought some respite from the mercury – which had soared to 44 degrees Celsius before the storm – the flooding and lack of electricity made life miserable for citizens.
The downpour exposed the local administration and Sukkur Electric Power Company's (Sepco) claims of preparedness for the monsoon.
Residents complained that it took up to 15 hours for the restoration of electricity supply to several feeders, though some of them saw power restored on Monday morning. According to a Sepco spokesperson, power supply was suspended to as many as 88 feeders in the region.
Meanwhile, localities in old Sukkur town were submerged by one to two feet of rainwater. The rainwater was later pumped out, with Sukkur mayor Arsalan Shaikh chiding public health engineering officials for the drainage problems.
The Pakistan Met-eorological Department recorded 56 millimetres of rain in Sukkur and 20mm in Larkana, with Sukkur's Rohri taluka receiving the highest amount of rain in the district. Most of Rohri's urban and semi-urban areas were inundated as well, while a child was electrocuted to death during the rain in the taluka.
Several localities in Larkana district, too, were inundated and left without power, with area residents complaining that the district administration and local government had taken no real steps to prevent urban flash floods
Originally published at Tribune