National Science Week In Australia Goes Online Over Pandemic Concerns
How do rockets fly? How to make elephant's toothpaste? Why do bubbles pop? The National Science Week in Australia could give you answers to these questions.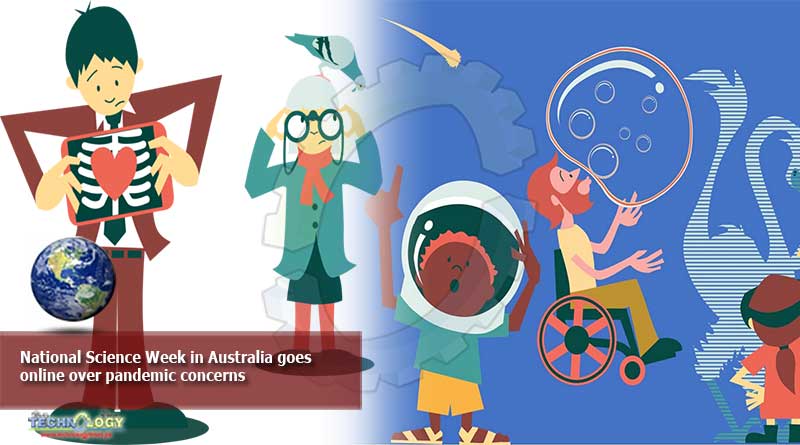 Running from Aug. 15 to 23, it features over 30 different local events in Australian Capital Territory (ACT). Due to the COVID-19 pandemic, most of the events are held online.
"There are events for all ages and interests including at home science pub trivia, an online film screening, making rockets at home and hearing awe inspiring stories from local STEM (science, technology, engineering and mathematics) role models," says ACT National Science Week Committee co-chair Michelle Kothe.
Project coordinator Jillian Matthews told Xinhua that the National Science Week happens every year in August around the country.
"It is a chance for everyone to engage with science community so that they could meet local scientists and take part in a lot of activities," she said.
This year the National Science Week kicks off with an online workshop on how to improve composting with science, and concludes showcasing the weird and wacky world of the animal kingdom.
"The highlight is the satellite selfie event," said Matthews. "We are actually getting a satellite to fly over the ACT and it is also happening in the Northern Territory as well. It is going to take a photo of everyone in Canberra and the surrounding area where they are."
The satellite comes at set time. "To participate is very easy: just to go outside, we suggest you lie down; wear a color that is very bright against the ground."
To make themselves distinctive, Matthews suggested that people create a big sign, pose with a flag or create big letters with friends and towels.
She noted that due to the COVID-19 pandemic they had to move the events to the online format. "This is to make sure that everyone can participate given the social-distancing requirement," she said.
"That is why the satellite selfie event works so perfectly. You don't need to be at any place. You could just be at your home, go online outside or create a sign at home. It is a bit challenging, but it is giving people a new way to innovate and come up with new ideas."
According to Matthews, lots of schools were pleased to take part in the event, and the photos will be uploaded in early September.
Other participants who posted their photos on social media include the Australian War Memorial, the School of Archaeology and Anthropology in the Australian National University, as well as the Embassy of Italy in Australia.
Individuals were also keen to take part.
"This gives me an opportunity to make my backyard design so much bigger!" commented Kristen Hannan on Facebook.
Mario Rossi shared his own photo of a big R on Facebook.
"As part of the National Science Week, we too wanted to make our contribution to the #SatelliteSelfie in Canberra. The satellite photographed our initial set up outside the home," he wrote.
"It was fantastic to see so many members of the ACT community out and about on Monday beaming a message to the world as part of the Satellite Selfie flyover! " said the notice on the National Science Week Facebook account.
However, due to undesirable weather condition, the satellite was unable to capture the image at other set time.
An additional flyover has been organized for next Tuesday morning, between 10:00 a.m. and 11:00 a.m.
"We are encouraging everyone to get back out there with their amazing designs, banners and space faces for a truly 'out of this world' photo," the notice said. Enditem
the article is originally published at xinhuanet.