Epson Introduces EH-TW5700 Projector Featuring In-Built Chromecast For Home Entertainment
It's been many months since I've been to the cinemas and I'm not likely to watch a movie at one any time soon. One of your options if you're also in this situation is to buy a projector which allows you to watch video entertainment on a much bigger "screen" (your blank wall) than any TV in your home.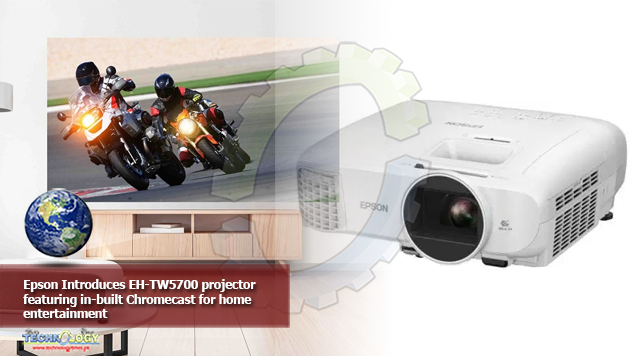 Even better it would be nice if the projector didn't require you to plugin a laptop or USB stick as the entertainment source.
Epson Australia has just launched its new EH-TW5700 projector featuring in-built Chromecast for easy viewing of your favourite entertainment from an Android smartphone or tablet as well as iPhone/iPad.
The EH-TW5700 also comes with a voice-controlled, in-built Epson Smart Media Player for wireless streaming of over 4,000 apps without the need for an external smart device.
Unfortunately, the projector is 1080p resolution not 4K, for that you usually have to spend more. 1080P is full HD so you can use this projector to watch movies and more up to 330″ inches on virtually any wall or screen. It also pumps out 2,700 Lumens colour brightness and white brightness with a contrast ratio up to 35,000:1.
Its upscaling detail enhancement and frame interpolation aims to make standard definition video like DVD's and fast moving sport look better on a large display area. Don't expect miracles because the bigger the projection area the less detail there will be.
For the gamers you can try to enhance your gaming experience using 21:9 ultra-wide mode and dark gamma uplift. The projector also features an in-built 10W speaker for standalone entertainment and the ability to output audio by cable or Bluetooth for big cinema sound — at 10W you may be better served with a dedicated speaker to accompany such a big picture.
On top of all of that, the vertical auto keystone correction and a 1-1.2x zoom ratio allows for quick and easy installation in a variety of spaces and you can connect to the EH-TW5700 from virtually any device. Finally there's a new customisable home screen that puts all the most commonly used functions at your fingertips, making it simple and straightforward to quickly find all the functions you need.
KEY FEATURES:
Smart TV – a Smart Media Player (SMP) is included so you can watch your favourite content from apps with a simple-to-use remote that features voice search
3 LCD Projector Design – a true 3-Chip design, 3 LCD technology
Colour Brightness – 2,700 Lumens colour brightness and 2,700 Lumens white brightness
1080p High Definition – for Full HD movies, games and more – up to 330″ on virtually any wall or screen.
High Contrast – contrast ratio up to 35,000:1 delivers a high range of colour and detail in both bright and dark scenes
Wide Ranging Connectivity – connect to virtually any device, making your entertainment more accessible
Captivating Sound – enjoy a built-in 10W stereo speaker for life-like sound
Easy to Use – simple and easy to use Home screen with quick access to menus
2 Year Projector warranty – enjoy peace of mind
Epson's new EH-TW5700 will be available in September 2020 via www.epson.com.au and from all authorised Epson retailers and resellers across Australia with an RRP of $1,599 including GST. There's a two year warranty and quoted lamp life of 7,500 hours in ECO mode.
Originally published at ausdroid