World Space Week Celebrated Online at IST
National Centre of GIS and Space Applications (NCGSA), Institute of Space Technology is hosting World Space Week 2020 under the patronage of the National Space Agency of Pakistan, SUPARCO. Owing to the global pandemic, WSW 2020 is conducted entirely online using different digital platforms. World Space Week 2020comprises of 100modules that are divided under 10 categories namely Space Knowledge, Space Quiz, Space Creative Writing, Space Innovation, Space Technology Demonstration, Space Fine Arts, Space Visual Arts, Space Graphics, Space Science & Fiction, and Space Entertainment.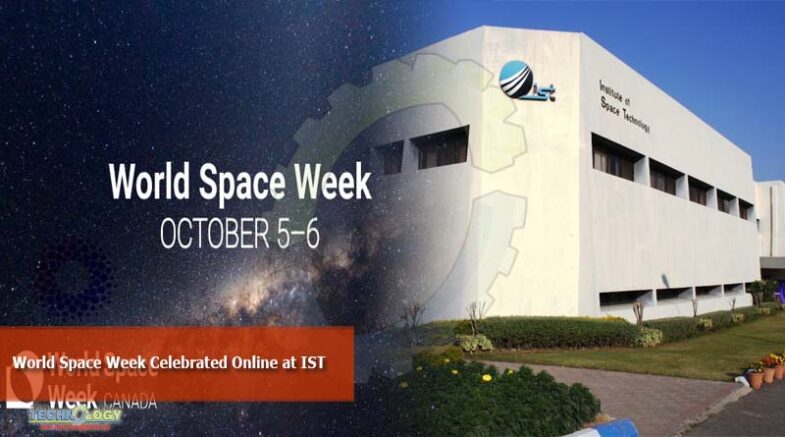 Institute of Space Technology has a legacy of organizing space awareness activities to spark the interest of students as well as the general masses in the field of space science, technology and its applications.IST has the honor of arranging the maximum number of World Space Week events in Pakistan andin 2019 Pakistan stood second among all the participating countries of the world where the Institute of Space Technology had a significant contribution to attain this privilege.
The theme announced by World Space Week Association for the year 2020 is "Satellites Improve Life". WSW 2020 is hosting over 2300 participants from over 50 schools and colleges from all over Pakistan with the contribution of more than 60 Space Ambassadors. IST has designed and developed more than100 unique space science, technology, and its applications related modules in relevance with the 2020 theme. The rising number of participants each year is a remarkable achievement, as it reflects the desire to learn and to excel in specialized STEM sectors, in the young minds of the country.
A Space Ambassadors' Forum was executed at the start of the event, where space ambassadors from different schools and colleges from various regions of Pakistan were engaged in a discussion about the aim and objectives of the World Space Week along with the planning and execution of this mega event. Space Ambassadors were selected from all institutes to ensure a smooth execution process by helping the students with their assigned tasks and operating the online learning management system developed by NCGSA for this activity.
This one-week event will equip the students with the necessary knowledge in the field of space education and technology, research, and its applications. In addition to this, the mega event will help students to get a vivid picture of the latest research and developments in the space sector and reinforce the passion for the specialized field in their bright young minds, which is pertinent for Pakistan to attain space-faring status in the future.