Mental Health Problems In Thanksgiving And Christmas During COVID
The darkest months of November and December are made brighter by two beloved holidays, Thanksgiving and Christmas.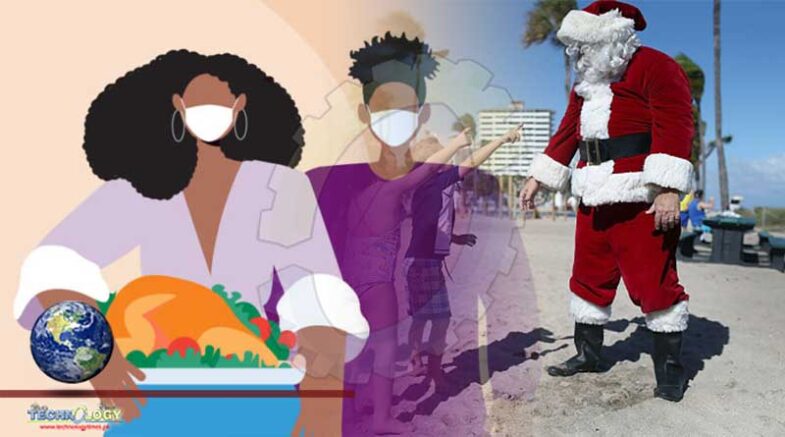 The darkest months of November and December are made brighter by two beloved holidays, Thanksgiving and Christmas.
With the COVID-19 pandemic preventing people from enjoying their most treasured celebrations, mental health advocates say they suffer emotionally and can become clinically depressed.
Rhode Island Department of Behavioral Healthcare, Developmental Disabilities and Hospitals Director Kathryn Power said her agency is ramping up its efforts to make people aware of the mental health resources available to help them get through the difficult holiday period.
A state initiative called "Pause Rhode Island" encourages people to reach out for help if they are feeling emotionally overwhelmed. They are then directed to health care resources, counseling and suicide prevention.
In addition, special efforts must be made, Power said, to reach the most vulnerable Rhode Islanders.
"We're trying to make sure that the people we serve, who tend to be very medically fragile or medically compromised or are often considered more vulnerable than the general population because they have mental illnesses or substance abuse disorders or developmental disabilities or other serious behavioral health conditions, we want to make sure that those people, especially, are connected and stay connected to community resources," she said.
Power noted that calls to suicide prevention hotlines from people thinking about taking their own lives have increased.
"We know that suicide ideation is increasing generally across the population, which, by the way, was happening even before COVID," she said. "But COVID, I think, has exacerbated the sense of isolation, the sense of loneliness, the sense of not being able to control my environment or the sense of being in some sort of pain, and the only way that they feel that they can end their frustration or their pain is to do something that's harmful to themselves."
Isolated at home and without annual holidays of Thanksgiving And Christmas traditions to look forward to, some people are self-medicating with drugs or alcohol. Alcohol sales since the pandemic began have gone through the roof.
"The amount of alcohol that has been consumed since COVID started is staggering — and I mean staggering," Power said. "Alcohol sales have gone up multiple percentages in Rhode Island, and we have all the tax information. It's pretty significant how much alcohol has increased during COVID. Rhode Island, traditionally, is a high-drinking state, but we've seen people coming into detox who are in pretty bad shape."
Locally, Dan Fitzgerald, executive director of the Chariho Youth Task Force, agreed that self-medication has become more prevalent.
"Between elections, holidays, COVID, just the turning of the seasons, this is kind of the perfect storm right now," he said. "I think people need tools and resources. … One way or another, if we have positive coping mechanisms or we don't have positive coping mechanisms, we do something to deal with that stress, and unfortunately, sometimes that looks like self-medicating."
'Deaths of despair'
A recent study by a national foundation, the Well Being Trust, describes deaths from suicide or drug and alcohol abuse as "deaths of despair" which, the authors warn, will increase unless something is done now.
"More Americans could lose their lives to deaths of despair, deaths due to drug, alcohol and suicide, if we do not do something immediately," the study states. "Deaths of despair have been on the rise for the last decade, and in the context of COVID-19, deaths of despair should be seen as the epidemic within the pandemic."
The study cites several factors currently having significant impacts on people's emotional and mental health.
"Three factors, already at work, include economic failure with massive unemployment, mandated social isolation for months and possible residual isolation for years, and uncertainty caused by the emergence of a novel, previously unknown microbe," the study states.
The Deaths of Despair study urges the immediate inclusion of mental health screening and treatment in all COVID-19 response and recovery initiatives.
"It is not just the job of mental health clinicians, or even primary care, to find and treat all those suffering from the mental health impacts of unemployment, social isolation and the fear of uncertainty," the study reads. "As we create teams to test, track and trace COVID-19 infections, we must also test, track, trace and treat patients suffering from mental health and substance use disorders."
Coping tools
The Chariho Youth Task Force is working with communities to make people aware of tools they can use to cope with the prolonged high level of stress in healthy ways. The task force is also encouraging its younger members to help seniors who are particularly hard hit by prolonged isolation.
"What's unique about the fall season is we begin to celebrate things like Halloween and Thanksgiving and Christmas and New Year's and Kwanzaa and all of the other holidays, which are the galvanizing events for us to share emotionally our lives with the people that we love, and we won't be able to do that this year," she said. "I think, first of all, acknowledging that and even talking about that is hugely important. … I'm trying to help people think in anticipatory ways about how do you substitute some of the things that you can't do anymore, and you need to figure out ways that you should be staying in touch with people, but that you should absolutely do it more frequently and more importantly for the holidays."
Originally published at The Westerly Sun