China's High-Tech And Equipment Manufacturing Up By 50%
China's Industrial Production Continues To Gain Momentum At Start Of 2021, With Strong Performances In High-Tech And Equipment Manufacturing.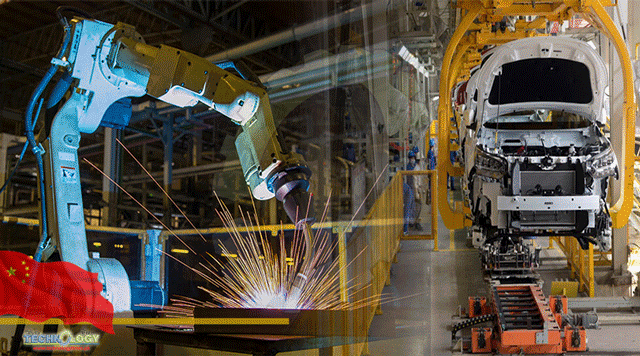 China's Industrial Production Continues To Gain Momentum During The Start Of 2021, With Strong Performances In The High-Tech And Equipment Manufacturing Industries, according to the National Bureau of Statistics (NBS) on Monday. High-tech and equipment manufacturing industries increased by 49.2 percent and 59.9 percent respectively. The first two months of 2020 and 2021 saw an average increase of 13 percent and 10.2 percent respectively, higher than the average increase of value-added industrial output of 8.1 percent, data from the NBS showed.
New-energy vehicles, trucks, industrial robots, excavating, shoveling and transporting machinery and microcomputer equipment all have year-on-year growth rates exceeding 100 percent. Value-added industrial output increased by 35.1 percent in the January-February period year-on-year, which was higher than the 16.9 percent compared with the first two months in 2019, the pre-epidemic normal level. The manufacturing sector's output climbed 39.5 percent year-on-year the fastest growth among the three major sectors: manufacturing, mining, and the production and supply of utilities.
On a month-on-month basis, the value-added industrial output in February increased by 0.69 percent compared with January, according to the NBS, reflecting the continuous recovery of Chinese economy as the COVID-19 epidemic prevention becomes normalized.
Bai Ming, deputy director of the international market research institute at the Chinese Academy of International Trade and Economic Cooperation, a think tank under the Ministry of Commerce, told the Global Times on Monday that the growth in equipment and high-tech manufacturing, an important economic indicator of China's manufacturing upgrade, reflects the nation has not only gained recovery increase from the impact of COVID-19 pandemic, but also achieved increase that is at its scheduled pace toward a manufacturing power.
"The incremental production and investment in high technologies and equipment is in line with the nation's determination to grasp core technologies in its hand instead of be exposed to the risks of being hit by others in the throat," Bai noted. China will increase its annual research and development spending by more than 7 percent every year over the next five years, and increase expenditure on basic research by 10.6 percent in 2021, according to this year's Government Work Report.
China's advanced manufacturing industry grew rapidly in the 13th Five-Year (2016-20) Plan period. The added value of high-tech manufacturing and equipment manufacturing accounted for 15.1 percent and 33.7 percent of the added value of industrial output, respectively, up 3.3 and 1.9 percentage points from 2015, becoming a driving force for the development of the manufacturing industry.
This news was originally published at Global Times.