Relationship Of Nutrient Uptake With Soil Fertility In Kinnow And Feutrall's Early (Citrus Reticulata) Under The Environmental Condition At Sargodha Region
About 80% Of Citrus Produced In Pakistan Comes From Kinnow & Feutrall's Early. In Order To Get High Yield Production & High Quality Of Fruit.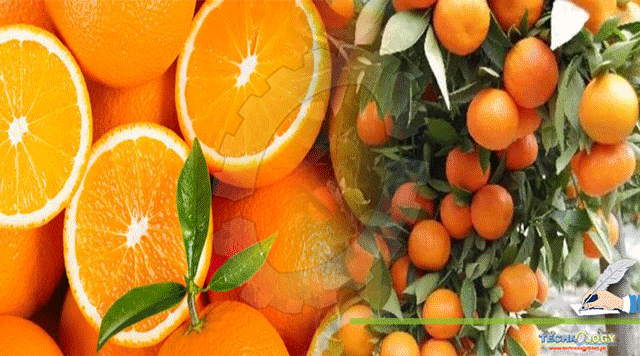 By Hafiz Muhammad Bilal1*, Haq Nawaz2, Ahmed Razae3, Syed Mukarram Ali4, Shahla Rashid5, Khurram Shehzad6
Climate of Pakistan is fortune for the production of wide range of fruit plants as it has favorable topographical conditions around the globe. Presently, worlds fruit production is estimated about 33519.3250 million tons cultivated on an area of 4874.78 ha. About 95 % citrus is produced in Punjab. Sargodha, Toba Tek Singh, Faisalabad, Sahiwal and Multan are main citrus producing areas in Punjab, while it is also cultivated in Mardan, Noshera, Swat, Sawabi, Hazara and Peshawar divisions, Sukkher, Khairpur and Nawabshah divisions of Sindh province, respectively. Similarly, citrus is also cultivated at a minor scale in Baluchistan province.
 In terms of production, citrus is the leading fruit in Pakistan followed by mango, apple, dates and banana. Citrus, a genus of plants belonging to the family, and yielding pulpy fruits covered with fairly thick skins. Economically important plants in this group including lemon, lime, sweet orange, sour orange, tangerine, grapefruit, citron, and shaddock. Citrus plants are typically evergreen trees or shrubs with glossy oval-shaped leaves; many species have thorns. Citrus fruits are consumed worldwide as fresh produce, juice and most often the peel is discarded as waste which contains a wide variety of secondary components with substantial antioxidant activity in comparison with other parts of the fruit.
The flowers are usually white with five petals and are very fragrant. Global production of citrus fruit has significantly increased during the past few years and has reached 82 million tons in the years 2009-2010, of which oranges are commercially the most important citrus fruit accounts for about 50 million tons (USDA, 2012) and 34% of which was used for juice production, yielding about 44% peel as by-product. The fruits are a type of modified berry known as a hesperidium, and the flesh is divided into segments packed with tiny juice-filled vesicles. The peel, or rind, of the fruits is leathery and studded with oil glands.
In case of nutritional importance, citrus is highly rated fruits as it contains high yield potential. Citrus fruits are a good source of carotenoids, proteins, flavonoids, vitamin A, C and E and antioxidants. It helps to prevent many diseases. About 80% Of The Citrus Produced In Pakistan Comes From Kinnow And Feutrall's Early. In Order To Get High Yield Production And High Quality Of Fruit The Uptake Of Nutrients In Plants Is Influenced By Nutritional Status, Soil Type And Type Of Rootstock. Mandarin fruits show improved yield and high quality fruit due to presence of all macro and micro nutrients. All nutrients are categorized in two groups, macro nutrients and micronutrients. Macronutrients include nitrogen, phosphorous and potassium. Micronutrients play an important role to affect the fruiting potential (yield and yield components) of the citrus crops. The most essential micro-nutrient is zinc. Zinc increases both the number of fruits per tree as well as yield per tree. Other micro-nutrients like Fe and Zn led to increases juice content in citrus fruits. Some micronutrients like zinc are important for some physiological cycles in plants. Due to antioxidants present in citrus, it helps to fight against diabetes and cardiovascular diseases.
Nitrogen is very important for citrus production. Nitrogen is essential for vegetative and reproductive growth of plants  excess amount of nitrogen improves the vegetative growth of tree. Phosphorous is present in low amount in soil as it activates the metabolic process in plants like transfer of energy its main function is enzyme activity, sugar mobility and metabolism  phosphorous deficiency occur when it is less than 0.09 % while its optimal level is 0.12-0.16%.
Potassium is required in higher amount in plants as it improves the colour, size, quality and juice in fruit. Potassium also controls carbondioxide movement in the plant by regulating the stomatal opening and sustain electrons to neutron ratio in cells of citrus fruit so it is very important for plants to have balance N, P and K in order to have improved quality and yield in "Kinnow" and "Feutrall's Early" mandarin  Kinnow, Feutrall  and  other  sweet  orange  varieties  are  the  rich  in vitamin  C  and  sugar. Pakistan is in the top ten citrus growing countries in the world.
Authors :Hafiz Muhammad Bilal1*, Haq Nawaz2, Ahmed Razae3, Syed Mukarram Ali4, Shahla Rashid5, Khurram Shehzad6  1Department of Horticulture, Faculty of Agriculture, Isparta University of Applied Sciences, Turkey 2Department of field crops, Faculty of Agriculture, Isparta University of Applied Sciences, Turkey 3Citrus Research Institute, Sargodha, Pakistan 4Department of Mathematics, University of Sargodha, Pakistan 5Department of Horticulture, College of Agriculture, University of Sargodha, Pakistan 6College of Resources & Environment, Huazhong Agricultural University, Wuhan, China
Hafiz Muhammad Bilal
Ph.D. Scholar  Turkey