Applications Open For Nutribiz 2021 Nutrition Innovation Challenge
Applications Are Now Open For Nutribiz Nutrition Innovation Challenge For Smes 2021. The Focus Of Nutribiz 2021 Is On Improving Capability.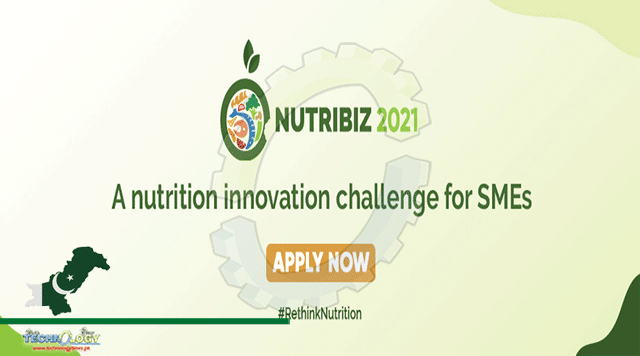 Great news! Applications Are Now Open For The Nutribiz Nutrition Innovation Challenge For Smes 2021. The Focus Of Nutribiz 2021 Is On Improving The Capability and productivity of small and medium enterprises (SMEs) working on innovative solutions for problems pertaining to Food and Nutrition in Pakistan.
Pakistan has one of the highest malnutrition burdens in the world. The National Nutrition Survey (NNS) in 2011 revealed that Pakistan faces a complex triple burden of malnutrition; undernutrition, overnutrition (obesity & overweight) and micronutrient deficiency. The NNS in 2018 indicates the nutritional situation has not improved to a significant scale since 2011. Given the prevalence of chronic and acute undernourishment combined with rising cases of obesity and non-communicable diseases (NCDs), it is important to recognize that there is an urgent and pressing need to transform the existing food systems to tackle the menace of malnutrition. 
In 2010, the Scaling Up Nutrition (SUN) Movement was launched to support national leadership and collective action to scale up nutrition. The SUN Business Network (SBN) is one of the four global networks that support SUN countries (along with UN, Civil Society and Donor Networks). It is convened by the Global Alliance for Improved Nutrition (GAIN) and the UN World Food Programme (WFP) and further supported by an Advisory Group comprised of senior business leaders.
For the Pakistan Nutribiz Nutrition Innovation Challenge 2021, SBN is collaborating with Teamup – an incubation and acceleration platform, running the National Incubation Center in Islamabad since 2016 with its partners Jazz and Ignite.  Teamup has rich experience conducting hackathons and innovation challenges for various development and corporate sector organizations and has worked with more than 200 startups over the last five years, providing them marketing, investment, legal, and product development support and more.
Startups and SMEs can serve as a powerful catalyst and vehicle for harnessing innovative solutions that address constraints in the food systems, preventing them from delivering safe and nutritious food. Startups and SMEs operating in this domain are highly encouraged to apply for the Innovation Challenge, under the following thematic areas:
Product Innovation
Market Connectivity
Minimizing Food Wastage
Cutting Edge Farm Technologies
Food Safety
Promoting a Healthy Diet through Education
Supply Chain Management, especially during a Pandemic
Shortlisted applicants will be invited to a virtual Innovation Challenge, whereby they will pitch their idea in front of a panel of industry experts. The top 10 startups and SMEs will be selected after this round to undergo a 5-day bootcamp to prepare them for the Grand Finale-an event where they will get a chance to pitch for investment to a panel of investors and relevant domain experts. The winner of the Grand Finale will undergo another training module to fine tune his/her idea for the Global Grand Finale.
In addition, top three winners will get cash prizes, and all 10 finalists will gain access to the Teamup and SBN network of mentors for business development support, as well as secure office hours with interested investors to explore the possibility of investment and partnership. If you are an innovative startup or SME, operating in the Food and Nutrition space, this is an opportunity not to be missed. Apply for the Nutribiz Nutrition Innovation Challenge here: https://forms.office.com/r/LEpZDn1RNT . The last date to apply is 30th May 2021.