Microchip Ambitions: Pakistan Needs To Catch Up
Under MDMP Framework And Banner Of "Made In Pakistan", Samsung Electronics Is Considering Setting Up Plant Here To Produce Its Smart Devices.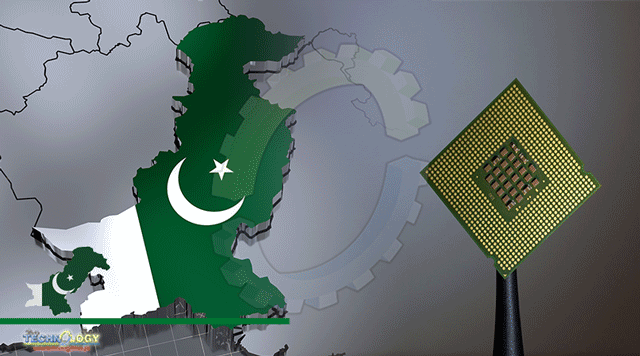 Silicon prowess is now the new normal and the Covid-19 crisis has shown how a supply shock of computer chips can damage multiple downstream value chains across the globe. Nuclear club member states are now ready to pour in billions into chip fabrication plants but the semiconductor technology, concentrated in a few rich Asia-Pacific states, is becoming increasingly hard to get access to.
The Narendra Modi government in India approved a new semiconductor manufacturing policy last year, which led the Ministry of Electronics and IT to float Expression of Interest (EOI) for setting up new fabrication facilities. It is interesting to note that tender documents were issued in four additional languages, including the Korean, Japanese and Chinese, strategically aiming to attract specialist companies located in the Asia-Pacific zone.
The ministry is also looking into acquiring an overseas fabrication plant, if feasible, and then starting the technology transfer process gradually over time. Delhi is eager to award a generous amount of grant-in-aid, Viability Gap Funding, and long-term interest-free loans – not to mention the full infrastructure support and huge tax incentives. Despite that, the deadline for the submission of a response to the EOI was extended several times as the government encouraged big names such as Texas Instruments, Intel and TSMC to apply for, but only in vain.
Surprisingly, Foxconn, a Taiwan-based company, has shown interest and is probably the breakthrough that Delhi has been looking for. Foxconn, with over 1.3 million employees, has factories in many Asia-Pacific states as well as in Mexico and the US. Earlier in 2020, Foxconn moved some of the iPhone manufacturing to Chennai in India after pledging more than $1 billion in investment, but the facility had to be locked down after several of its employees caught coronavirus.
Similarly, the Indian government has rolled out the EOI for setting up fabrication facilities to manufacture display panels and is offering huge policy benefits for transfer of technologies such as OLED, AMOLED, QLED, LCD, etc. Original Equipment Manufacturers (OEMs) with the relevant IP are being encouraged to locally produce TV screens under the Manufacturing Licence Agreement (MLA). Both EOIs are also linked with the Electronics Manufacturing Clusters (EMC) 2.0 scheme, which is aimed at enhancing the ecosystem for electronic manufacturers in southern India.
During the tenure of the original EMC scheme, India's electronics production grew from $29 billion to $70 billion over a period of five years. However, a deep dive in India's production inventory reveals that the reliance on foreign chip technology remains a vulnerability. For example, if we take the case of a mobile phone, then India can manufacture its PCB, charger, microphone, USB cable, ringer, vibrator, etc but not parts such as processor, memory and display.
In this larger scheme of things around the chip business, Pakistan is nowhere to be seen. According to the Pakistan Electronics Manufacturers Association (PEMA), the electronics industry cannot grow due to smuggling and imports of used devices. Free Trade Agreement With China Is A Key Hampering Factor And The Import Duty Structure For Parts Needs To Be Revised. In fact, most of the manufacturing is attributed to electric motors whereas semiconductor manufacturing is not deliberated upon by the government even in Vision 2025 documents.
However, Pakistan did approve the Mobile Device Manufacturing Policy (MDMP) in 2020 for the manufacturing of smartphones locally, as their imports were projected to touch $2 billion by 2022. Under this MDMP framework and the banner of "Made in Pakistan", Samsung Electronics is considering setting up a plant here to produce its smart devices.
If that goes well, Pakistan needs to take a leaf out of India's book and roll out a comprehensive semiconductor manufacturing policy as Samsung is not only a phone manufacturer but also has a considerable share in the global chip fabrication business.
Drawing parallels with India where Foxconn has entered as a licensed manufacturer of iPhones and is now mulling over establishing a semiconductor foundry there, Pakistan can hope for a similar trajectory with Samsung. Pakistan should come up with a cleverly designed blueprint using policy instruments such as production-linked incentive schemes and tax holidays to attract foreign players. This is by no means a simple task, albeit not an impossible one.
This news was originally published at Tribune.