Cotton phutti price fixation to ensure more yield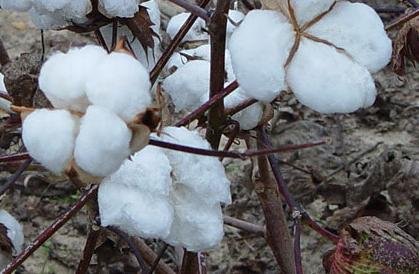 STAFF REPORT ISB: The fixation of intervention price at Rs 3,000 per 40 kg for seed cotton phutti will help save farmers from any possible loss due to price fluctuation in future.

As part of measures adopted by the government to improve cotton production in Pakistan, this very step will encourage the farmers to cultivate more cotton in future as it would improve the crop production.

Enumerating details of the measures, sources at the Ministry of Textile Industry have said that availability of certified class of seed to farmers in a timely manner was ensured. The germination standard of the available seed was also fixed at 75 per cent instead of previously approved 50 per cent to lessen the loss of farmers on this account.

Moreover, 21 new varieties of cotton (including Bt cotton) were also approved by the department concerned.

Area under cultivation of cotton has been improved from 2.767 million hectare to 2.861 million hectare despite flood losses of about 86,000 hectares. The other step taken was to strengthen the Pakistan Central Cotton Committee, the premier cotton research organization, to enable scientists to produce new better varieties of the cotton crop.
--
Published in: Volume 05 Issue 47
Short Link: https://www.technologytimes.pk/?p=12484