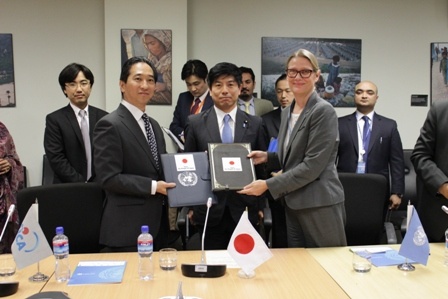 STAFF REPORT ISB: Japan and UNESCO have agreed to implement a project worth $4.05 million to further improve flood warning and management capacity of the govt of Pakistan.
More than 39 districts are now being covered with the flood forecasting and early warning system of IFAS, and more than 53 million residents in 32 districts located in the lower Indus River Basin are now served with the new flood hazard maps generated by the RRI model.
At the signing ceremony, Nakane, Parliamentary Vice-Minister for Foreign Affairs of Japan, expressed his hope that this project contributes to protecting more lives and properties from future floods.
He reaffirmed Japan's commitment to help Pakistan to be more resilient to future natural disasters.
In her remarks, Vibeke Jensen, Representative/Director, UNESCO Islamabad applauded the govt of Japan's support to building effective flood warning systems in Pakistan. She expressed her deep gratitude to the Government of Japan for supporting the next phase which will be particularly helpful in extending the flood early warning models to the eastern rivers of the country.
She underlined the successful completion of the first phase of the project and reaffirmed UNESCO's strong commitment to continue building Pakistan's capacity in disaster forecasting and management.
--
Short Link: http://technologytimes.pk/post.php?id=7646