Special fund for R&D should be created to boost research culture: Dr Shahid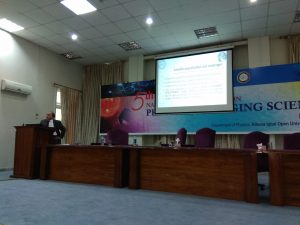 Fifth National Conference on Physics and Emerging Science held at Allama Iqbal Open University (AIOU). The Conference intended to create awareness for internationally well-matched quality research work and generating commercially feasible projects that helps the society to overcome its socio-economic problems.
Vice Chancellor of AIOU Prof Shahid Siddiqui proclaimed constitution of Special Fund for Research and Development actions for building and spreading knowledge, through research papers and conferences.
He announced that the best research award will be given to the PhD students on country-wide basis. Similarly, best research projects' award will also be available for the students MSc and BS. These awards were being presented from the current year, and a substantial budgetary distribution has been made for this purpose.
The University will also start complete training programs for professional development of its faculty's members as well as the servicing staff, he added.
Concentrating on the research-based activities, the AIOU has so far produced twelve research papers that meant at improving living-conditions of the people, via innovation and new developments in numerous fields.
The 5th Conference of the emerging sciences is the 21st such kind of activities that has the basic idea of disseminating knowledge and helping the participants to share knowledge and expertise in the relevant fields.
Visiting Research Fellow Centre of International Strtegic Studies Dr. Syed Javaid Khurshid said that science and technology is very crucial for the betterment of society, if common person cannot harvest the benefits of research and development, they cannot understand that science or technology. He emphasized that it is the need to popularize science, and for this purpose academia and industry should work side by side. Dr. Khurshid highlighted said, "usually scientific information remains in between science gathering whereas it should be communicated to non-scientist community where they can get support and funding".
Chairman PINSAT Dr. Noor Muhammad Butt while addressing the session highlighted the importance and applications of nanotechnology that it has wide range including medicine, military application and astronomy.A renowned academician Dr Asghari Maqsood also spoke in the session and praised the AIOU's proposals in the field of research and the professional development.
It was meant at offering the scholars a platform not only to share their research work but also to learn about current research in Physics and others sciences from renowned scientists. Earlier, Dean Science Prof Dr Naghmana Rashid and Chairman Physical Department Dr Zafar Ilyas emphasized the objectives of the conference, stating that around seventy-five papers will be presented during the three-working session.
The two-day conference was being attended by well-known scientists, researchers, academicians as well as students of M.Phil and PHd from various parts of the country.